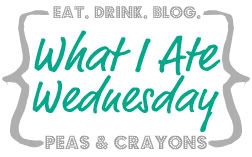 Thanks again to
Jenn
for keeping us accountable!
Here you have it!
Breakfast as usual:

plus some OJ and coffee.
A couple spoonfuls of this:
Post 12-mile run lunch–lots of water/Nuun and

fat-free plain Greek yogurt, Love Grown Oat Clusters with raisins, and a drizzle of honey. The Love Grown is good enough that I almost forgive them their high calories/fat content per serving. Almost. I need to find something similar with less of each. Suggestions, anyone?
I have to tell you that I've been LOVING the Runner's World Cookbook lately. If you don't have it already, you ought to get one! Dinner was another great recipe–Bean & Vegetable Chili. I went light on the ground beef and heavy on the beans.

Can you tell I like cilantro? Anyway, along those lines I thought an avocado sounded like the perfect thing to add on the side.

What a sliced avocado should look like.

My "sliced" avocado. Yeah. I don't know either.
Not pictured was a small slice of Dutch Oven Bread–recipe from The Lean Green Bean, which you can find here. I think I shared that one before, since I've been making it pretty much weekly. Super easy to make as far as homemade bread goes and thumbs up from the family.
Yikes–where's my fruit?
Oh wait, here it is.

I love a nice Malbec. My sister turned me onto this one. And for $10 (a steal!) it's perfect for a random Wednesday night. I did learn somewhere that you should only buy Malbecs from Argentina because that is the only place in the world where this particular grape is actually grown. So there's your Wine 101 lesson. Surely that was not in the curriculum when my husband took "Wines" as an elective at Miami University. Yep, that is a fact. What's also a fact is that his parents actually paid for that class.
OK, I'll stop trying to be funny now. Note to self: Eat more fruit.
Happy Wednesday!