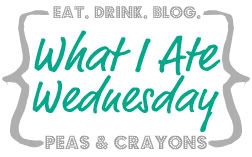 We were vacationing in Santa Fe last week. There are so many great restaurants there so we try to eat light during the day and do some long hikes to offset some of the calories we know we will consume in the evening. This is a pretty typical day when we are there although we usually eat a real dinner as opposed to just going to Happy Hour(s).
Breakfast
A banana and a prickly pear fruit from a cactus plant. I love being able to try new things and Santa Fe is a great place to find unusual fruits and vegetables.
Lunch

Lunch at a great new restaurant in Santa Fe Vinaigrette . I had the Omega Salad which had corn, avocado, pine nuts with blue cheese vinaigrette. It was delicious.
Happy Hour/Dinner
We started out at the Thunderbird Bar & Cafewith one of these..

And on to the next happy hour…

Luckily I had enough sense to talk Ryan out of a full dinner, but he insisted on one more Happy Hour stop at The Agave Lounge and I might have had one bite of these awesome Green Chile Cheese Burgers

I consumed a ridiculous amount of calories this Wednesday, but we had a great day and night. No regrets at all.
Do you watch what you eat when vacationing?